Druva Enterprise Cloud Backup
Druva Cloud Platform is a SaaS data protection solution to protect and manage enterprise backup data across data center, cloud and endpoint workloads. Delivered as-a-service and built on AWS, Druva Cloud Platform is infinitely scalable, on-demand to meet your business needs.
Description
With the power of Druva's SaaS data protection platform, you can leave behind the cost and complexity found in solutions that aren't built for the cloud. You save time and money, while getting a data protection solution that's secure, scalable and always available. Druva's enterprise data protection solution empowers your organization with more intelligence about your data, while improving the efficiency of your IT teams. Druva Cloud Platform combines an unprecedented set of capabilities in one user experience. A proven SaaS data protection solution, with over 4000 customers protecting their data in the Druva Cloud Platform. Druva has been validated by respected analysts like Forrester, numerous customer testimonials and case studies, placing Druva as a leader in cloud data protection and disaster recovery.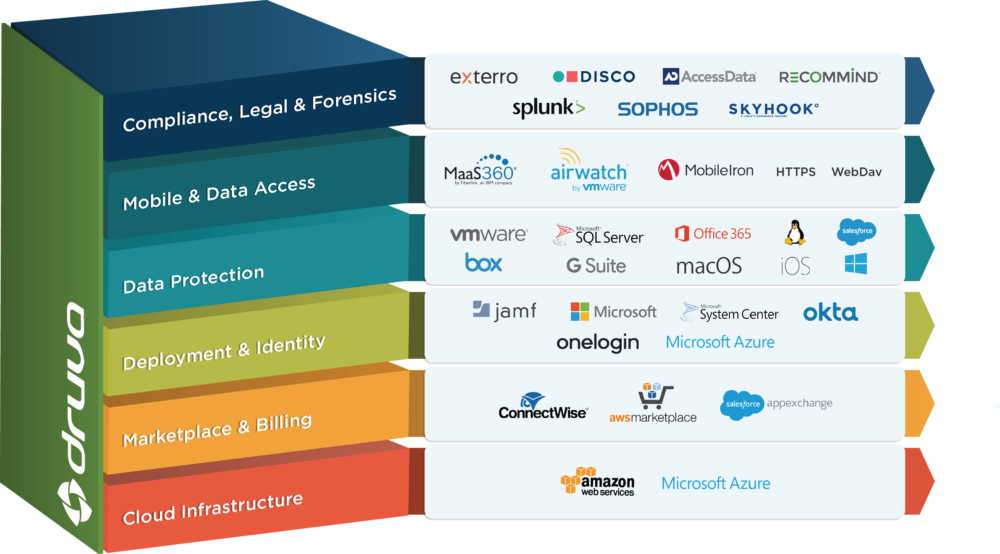 Features and Benefits
No hardware, no software
Delivered as-a-service means leaving behind on-premises infrastructure, hardware refresh cycles and time consuming software maintenance.
Infinitely scalable
Built in the cloud, new capacity can be added to your subscription on the fly without any changes to your backup settings. No need to purchase and install new appliances or software.
No maintenance windows
Druva maintains the data protection solution, not the customer; our platform is always up to date with the latest features.
Simplicity
An intuitive interface and customer experience, deployed in as little as 15 minutes. No backup target to install, tune or maintain.
Intelligence
Smarter in how we store your data (global deduplication, automated long term retention), and more intelligence about your data (ransomware monitoring, analytics and more).
Control
Stay in control of your data, with policy-based management, federated search and advanced security that ensures only you can access your data.
Lower TCO up to 50%
Leave behind the cost and complexity of onsite hardware, software and infrastructure, while expanding your disaster recovery capabilities at no additional cost.
Accelerate backup performance
Built on AWS, the Druva Cloud Platform can expand compute resources dynamically to meet even the most demanding backup windows.
Unlimited scalability, on-demand
The cloud is infinitely scalable, and capacity can be added on-demand without the need to provision new devices, or change your backup settings.
Beyond backup, do more with your data
A unified view of your backup data allows you to easily respond to eDiscovery, manage Legal Hold, or analyze your data to drive business decisions.
Workloads
Data centers & Servers
Scalable, all-in-one backup, disaster recovery (DR), archival and analytics for enterprise data center workloads. Simplify data protection, dramatically reduce costs, and improve data visibility for today's complex information environments.
---
AWS workloads
The easy-to-use AWS backup and disaster recovery solution for the enterprise. Simplify data protection for AWS infrastructure and ensure regulatory compliance SLAs.
---
SaaS applications
Close the data protection gaps for SaaS applications such as Office 365, Salesforce.com and more. Reduce costs, ensure regulatory compliance, and improve data visibility for your critical online data.
---
Endpoints
Simplify endpoint data protection for your mobile workforce. Ensure regulatory compliance, enable eDiscovery, and improve data visibility.
Resources
Case Studies
PwC empowers mobile workforce
Pfizer solves OS migration challenges with inSync
India's Key Banking & Financial Institutions Choose Druva inSync for EndPoint Data Protection
Allergan makes a healthy choice for data protection with Druva
Integreon protects endpoints and Office 365 with the Druva Cloud Platform
Family Health Network adopts cloud DRaaS for VMware environments
---
Gartner Reports
Critical Capabilities for Enterprise Endpoint Backup
Gartner Peer Insights 'Voice of the Customer': Disaster Recovery as a Service
Gartner: Prevent data loss by assessing your Office 365 backup and recovery needs
---
Druva Datasheets
---
Whitepaper
Office 365: The Critical Gaps
You need to simplify remote office backup—and here's why
CIO's guide to cloud-first data protection
Five reasons why OneDrive endpoints need third-party data protection
10 common pitfalls of enterprise endpoint backup
Cost Efficient Backups For The Enterprise
---
For more information, please contact our friendly sales representatives: